***Disclosure: This post contains an Amazon affiliate link that at no additional cost to you, I may earn a small commission when you purchase through the link from my blog. Thank you for your support!
There are many important topics to introduce and discuss with your students during your first week of school. Apart from building a classroom community and cultivating kindness in students, it's also extremely important to talk about big feelings and self-regulation.
It doesn't matter if you are teaching lower or upper elementary, there will be a time when your students experience big feelings. Some students are great at self-regulating, but some might still need your help. It is important that you prepare for that day and have a game plan on what to do.
A fun book to spark discussion on self-regulation is "Even Superheroes Have Bad Days" by Shelly Becker. In this post, you will get ideas of how to structure your read-alouds with this awesome book and also a Free activity that you can use.
Besides this Back To School read alouds activity, consider having a safe space like a Calm Down Corner in your classroom. This way students can have a place to go to with tools equipped to help them self-regulate. You can check out my posts on How To Create A Calm Down Corner In The Classroom and How To Implement A Calm Down Corner by clicking the links.
Now, let's talk books!
Table Of Contents:
Even Superheroes Have Bad Days Overview
"Even Superheroes Have Bad Days" by Shelly Becker introduces the idea that everybody including your favorite superheroes can have rough days. However, despite having such a bad day, there are better way to deal with frustration, anger, and sadness than letting these emotions control us, or in the case of superheroes, destroy the world! It also briefly introduces the idea of being mindful, staying with your emotions, and letting them pass.
This book is so funny and great at talking about why and how to handle big feelings. This is the third book of the week in my Back To School read alouds blog post series.
Back To School Read Aloud Lesson Plan: Self-Regulation
Objective: Students will reflect on their actions when experiencing 'big feelings' and explore strategies for self-regulation.
Pre-Reading
Introduce the book and initiate a dialogue by asking students their thoughts on a superhero's reaction to a tough day.
Additional Questions:
How do you think superheroes handle disappointment?
Can you recall a difficult day you had? How did you feel?
How do you usually react to a challenging day?
---
During Reading
Pause during reading to ask students about the potential consequences if upset superheroes resort to destructive behaviors.
Can they empathize with the superheroes?
Additional Questions:
What might happen if a superhero allows anger to dictate their actions?
How do the superheroes choose to handle their difficult days?
Why do you think superheroes act responsibly, even when they're upset?
---
Post Reading
After the reading, ask students how they think the superheroes were about calm down and make a different choice when they were upset.
Record your students' answers on a whiteboard or an anchor chart to use for the activity.
Additional Questions:
How did the superheroes in the story calm down when they were upset?
What are some ways we can handle our bad days like the superheroes in the story?
Can you think of a time when you reacted well to a bad day? How about a time when you didn't? What would you do differently next time?
Introducing a Calm Down Corner:
If you plan on having a Calm Down Corner in the classroom, you can introduce your Calm Down Corner post-reading. Discuss with students how they can use this corner in similar ways as the superheroes in the book — as a place to retreat, regroup, and use their coping strategies when they're feeling upset or overwhelmed. Read this post on implementing a Calm Down Corner in the classroom for more ideas and detailed instructions.
You can also use this time to practice different breathing techniques with students, especially the ones that you might want to use in your Calm Down Corner.
---
Activity: What Would You Do?
In this activity, students imagine themselves as superheroes facing a bad day. They have to identify the potential negative reaction, what they could do, and then positive alternatives, what they would do instead.
Materials Needed:
Writing Paper or Free Worksheet (Click on the image for the free worksheets)
Writing Materials
Instructions:
Begin by explaining to the students that just like the superheroes in the book, they have the power to make positive choices even on tough days.
Prompt students: Imagine you are a superhero having a really bad day. What might tempt you to do something bad or negative? Write it down in the space below.

Example: If I were "Super Kid," I might feel like throwing my super boomerangs everywhere in frustration.

Prompt students: Now, think about what you, as a superhero, could do instead to handle the situation positively. Write down your positive choice in the space below.

Example: Instead of throwing my super boomerangs, I would take deep breaths and talk to my superhero friends about my feelings.
Extension:
Have students turn their responses into a short story, poem, or comic strip, detailing how their superhero self-overcame a challenging day.
Anchor Chart Alternative:
If students need more help, you can do a whole class discussion and create a T-chart (Negative Choice vs Positive Choice). Ask students to think about what are some negative choices that someone might choose to do when they are experiencing big feelings such as anger, sadness, and more. Then ask them about think about the positive choices that they could choose instead.
If you love Social Emotional Learning and want to implement it throughout the school year, grab a FREE 1 month of SEL Daily Morning Meeting here.
Save It For Later
Pin this Blog Post or the Back To School Read Aloud Lesson Plan below for later use!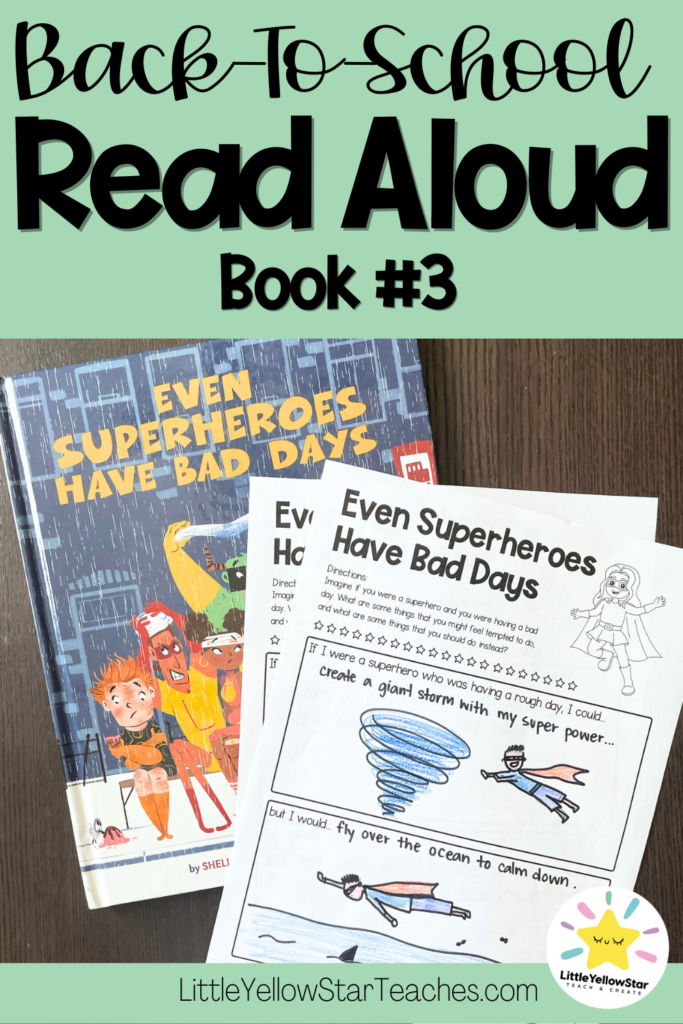 Check Out More Back To School Read Alouds here:
Even Superheroes Have Bad Days Read Aloud Lesson Plan:
Subscribe for Updates: Stay informed with weekly updates and freebies!
Share your experience using "Even Superheroes Have Bad Days" by Shelly Becker by tagging on Instagram @LittleYellowStarTeaches, and go show @shellybeckerbooks some love for her amazing book!
Thank you for reading, and welcome back to school!
Bye for now,
Prima from LittleYellowStar
* * *
Other Blog Posts That You Might Enjoy: