Social Emotional Learning (SEL) has become a big topic in schools for good reasons.
As educators, we know how essential social and emotional skills are to students and consistently try to bring SEL in the classroom. We work tirelessly to establish a safe environment and teach various social-emotional skills.
However, balancing cultivating social and emotional skills while covering the curriculum is challenging, especially since TIME is never really on our side!
So, what if I told you that you could do it within 15 minutes?!
Yes! It is possible to bring SEL in the classroom daily if you have at least 15 minutes!
How? Your answer is Morning Meetings! ☀️
Why Morning Meetings?
The morning time is usually an awkward chunk of the day.
You can't fully start a lesson because not all your students have arrived. Furthermore, in some schools, that's when your students get to eat breakfast. Not to mention, some students have to be pulled out for intervention.
Yet, your morning time sets the tone for the rest of the day! If leveraged effectively, morning meetings can be an ideal time for fostering social and emotional growth.
Many teachers are interested in incorporating Morning Meetings into their daily schedules. However, it can be pretty time-consuming to plan conversational topics or activities every morning, especially when you also have to prepare for the rest of the day.
Today, I want to share two things with you:
How to structure your Morning Meeting to incorporate SEL
I hope to show you that bringing Social and Emotional Learning activities in the classroom can be a quick and easy process with very little prep! And, maybe, give you some ideas on how you can start cultivating social and emotional skills with your students.
15 Minutes SEL Morning Meeting Routine: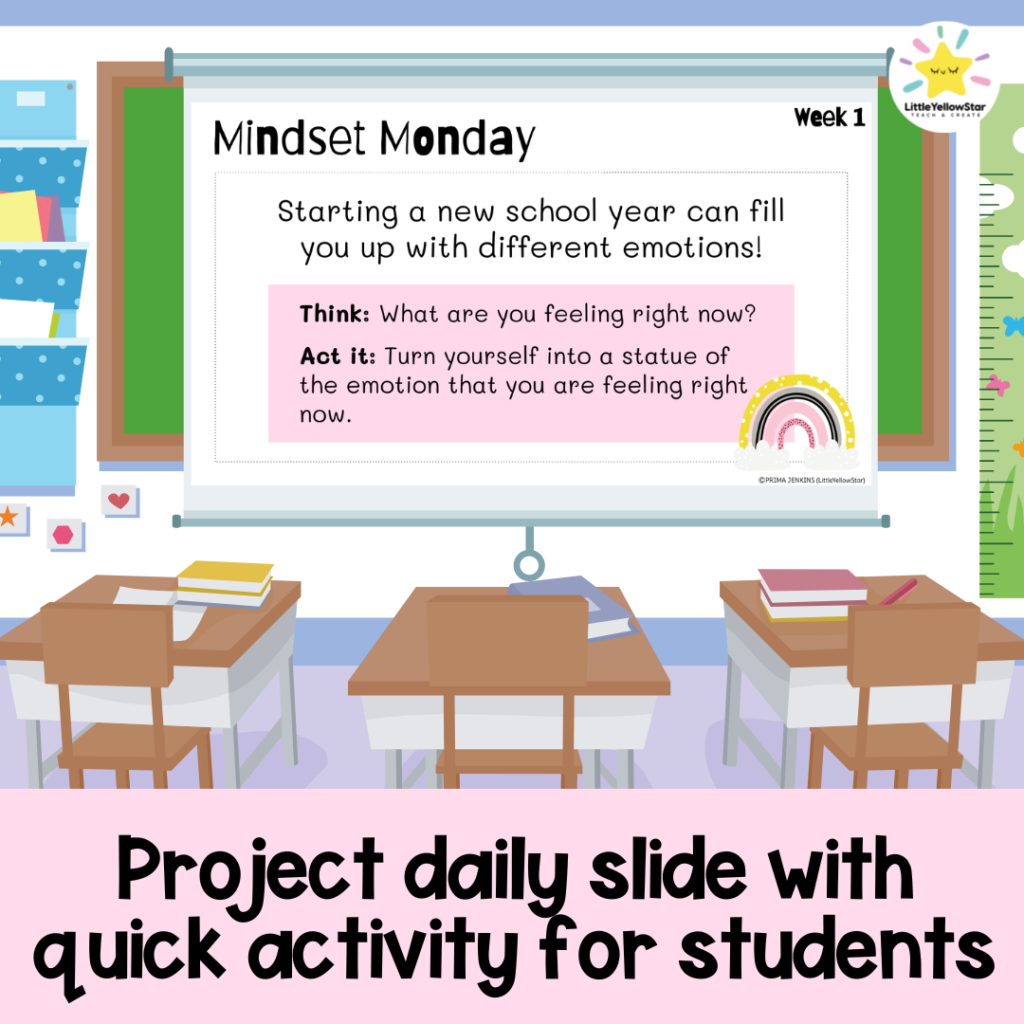 Step 1: 📋
First, project your fun social and emotional learning activities on the board so that your students can see it at their desks or through a virtual platform. You can do this using PowerPoint, Google Slides, and more! In the free resource, there is also a workbook version available for a more quiet morning time.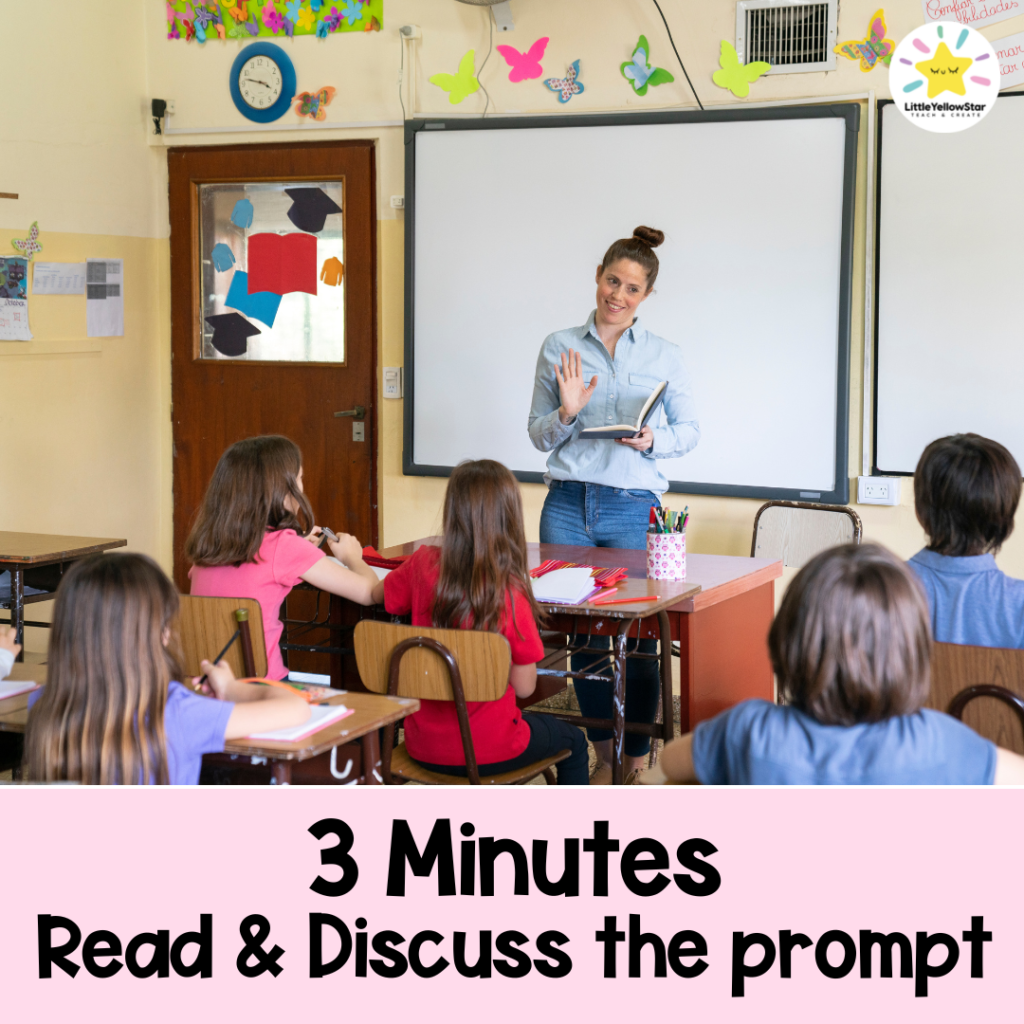 Step 2: 🗣️
Second, spend about 3 minutes reading and discussing the prompt. This helps ensure that your students understand the activity and encourage deeper thinking among students.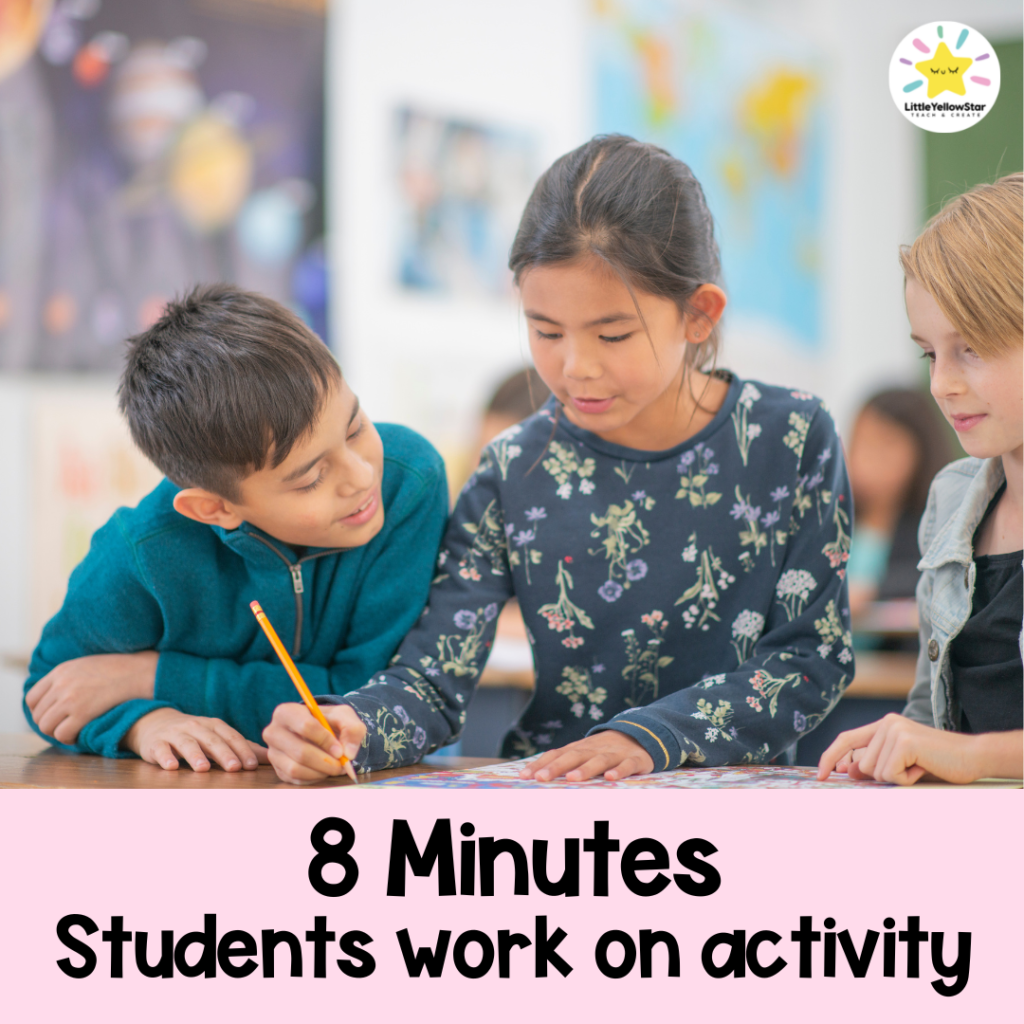 Step 3: ⏳
Third, spend about 8 Minutes letting students work on the activity. Yes! 8 minutes! This might sound so fast, but once your students get the hang of it, they might even work faster than you expect. Working on the activity independently gives your students an opportunity to reflect and apply the social and emotional skills they are learning.
Each activity is different, and some may take less time. If most of the students are completed before time, don't be afraid to move on to share time.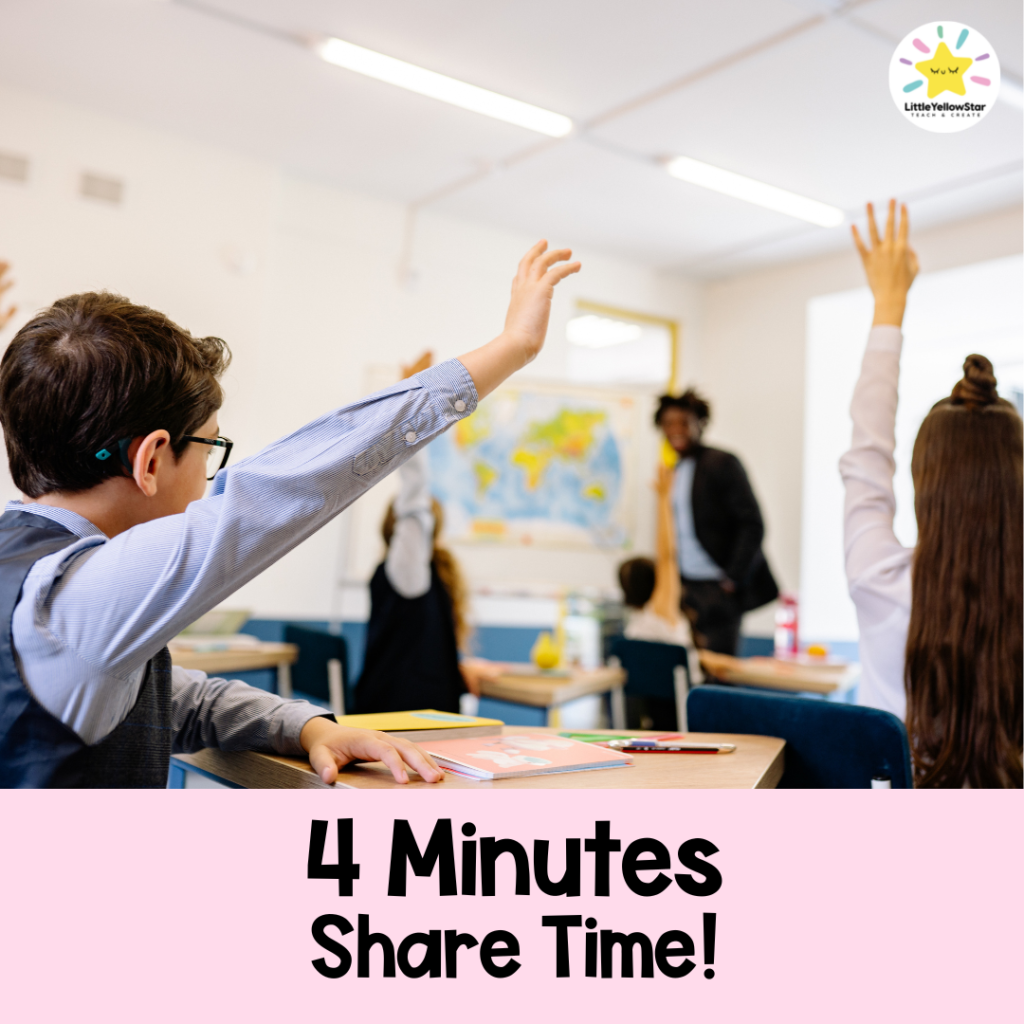 Step 4: 👥
Lastly, spend the last 4 Minutes on Share Time. There are so many different strategies that you can use instead of class-wide discussion or asking students to raise their hands and call on them one by one. You can still do that too!
Turn and Talk, Partner Talk, Freeze and Share, are just some great sharing strategies that allow ALL of your students to share their work. We Are Teachers has a great post on 10 Fun Alternatives to Think-Pair-Share that you can check out for more ideas.
What I loved to do was after a quick partner talk, I would ask 2 students to volunteer and share what THEIR PARTNER showed them. This ensured that students were actively listening to each other.
There is no wrong way to conduct Share Time. The purpose is to allow students to express themselves and their opinions.
There you have it! That's how you can spend just 15 minutes bringing SEL in the classroom!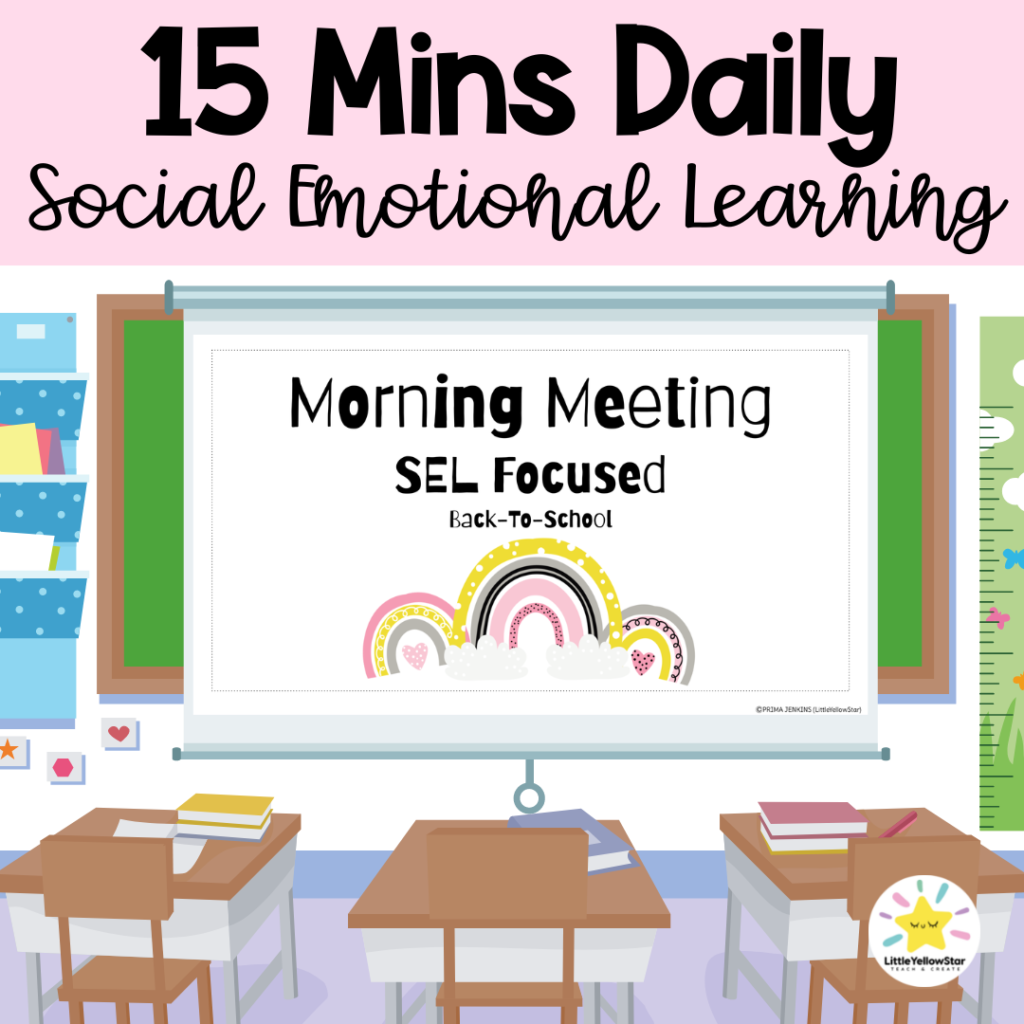 Free 15-Minute SEL Daily Activities
As mentioned above, I promise to share a FREE Social and Emotional Learning Daily Activities Resource with you. This resource is a great addition to your SEL curriculum elementary level.
Each week is also dedicated to a specific SEL topic with a different focus on each day. Let me walk you through what a week of this resource looks like.
Mindset Monday:
Start the week with Mindset Monday! Students get an introduction to the SEL topic of the week with an activity that gets them to think deeper about the topic.
Togetherness Tuesday
Moving on to Togetherness Tuesday, where the activity is focused on the SEL topic but also getting students to think about the people around them.
Wise Words Wednesday
Then, we explore a quote about the SEL topic on Wednesday. Finally, students do a quick activity framed from the quote itself.
Thankful Thursday
Gratitude is a big part of cultivating social and emotional skills, so students spend time every Thursday on that. Still, on the SEL topic, students get to explore their appreciation of the people and things around them.
Flashback Friday
After a whole week of exploring a specific SEL topic, students reflect on what they have learned and formulate their understanding of that SEL topic.
Making Literacy Connection
Incorporate Read Aloud books to enhance SEL discussions and engage students further. The resource also has a section with book suggestions for each SEL topic.
Select books that align with the weekly SEL topic and read them during the morning meeting. The stories and characters can spark meaningful conversations and help students connect with the SEL concepts on a deeper level. If you are thinking about adding in a read aloud, Mindset Monday is a great day to do so. It will help get your students interested in the SEL topic and you can always refer back to the book during the week when discussing the SEL topic.
So, Are You Implementing SEL In Your Classroom This School Year?
Implementing SEL doesn't have to be complicated or time-consuming. By dedicating just 15 minutes each day to SEL activities, you can make a significant impact on your students' social and emotional development. Morning meetings provide an ideal space to nurture these skills, set a positive tone, and create an inclusive classroom environment. Incorporating SEL doesn't have to be overwhelming. Don't forget to download the FREE Back to School SEL Morning Meeting resource that provides ready-to-use activities and prompts.
Start small, follow the simple routine, and witness the transformative power of daily SEL activities.
Thank you for your dedication to your students' holistic growth.
Bye for now,
Prima from LittleYellowStar
* * *
Other Blog Posts About Back To School That You Might Enjoy: