It's that time of year again when children and teachers prepare to head back to school.🎒
Looking for ways to DIY Back To School teacher gifts because you know someone about to kickstart their teaching career or have a teacher buddy? Why not put together a Teacher Survival Kit? 👩‍🏫
Crafting a teacher survival kit can make for a fun, meaningful, and, above all, useful back-to-school present.
This Survival Kit is not just another gift. It's a toolbox, packed with essentials to tackle stress, nurture well-being, and enable them to stay on top of their game throughout the school year.
Speaking from experience, as a former teacher myself, I've navigated the highs and lows of this noble profession. A gift as thoughtful as this would've been a real treat. Whether the teacher in your life is a friend, relative, or your kid's future educator, this kit will surely put a smile on their face. 😄
***Disclosure: This post contains an Amazon affiliate link that at no additional cost to you, I may earn a small commission when you purchase through the link from my blog. Thank you for your support!
So buckle up, folks! Today, I'll share with you some must-have items that make the perfect Teacher Survival Kit. Trust me, they'll thank you for these throughout the school year!
The Role of a Thoughtful, Useful Gift
Did you know that a new teacher and a calculator have something in common? They both can count on a problem popping up every single day! 😅 And believe me, I can testify to this humorous yet accurate observation.
No matter if you're assembling this 🎯 teacher survival kit 🎯 for experienced educators or new teachers, they will all face similar hurdles. From piles of paperwork, and occasional tech glitches, to managing challenging personalities, a teacher's day is filled with unexpected stressors.
Our DIY Teacher Survival Kit isn't just a fancy present—it's a lifeline, equipped with tools to help your teacher weather any storm that comes their way. So if you are looking to DIY Back To School Teacher gifts this year, look no further!
The Essential Components For Your DIY Teacher Survival Kit
Ready to dive in? Let's unpack the essentials that you can select to add to your DIY teacher survival kit that your teacher friend will definitely cherish! You don't need to include all, but these are the items that will be most useful throughout the school year.
The components are separated into categories to make sure you cover all the bases.
#1 Medicine and Immune Booster Items💊
Working with a classroom full of students is rewarding, but it can be physically taxing, too. Between the strain of projecting your voice, standing all day, and being exposed to every little bug that comes through the door, teachers often need a little extra help to stay healthy.
Headaches and heartburn are common, so consider including ibuprofen and antacids like Tums in the survival kit. Just make sure to double-check that your teacher isn't allergic to these!
And speaking of exposure to bugs, a teacher's immune system could easily qualify as the Avengers of the cellular world! 🦸‍♀️ Especially in their first year, teachers might feel they're getting sick every other week. Why not lend a hand with some immune-boosting items like Vitamin C supplements or Echinacea tea? They'll be grateful when they're the only ones not sniffling during flu season!
Item Examples:
#2 Personal Care Items⚡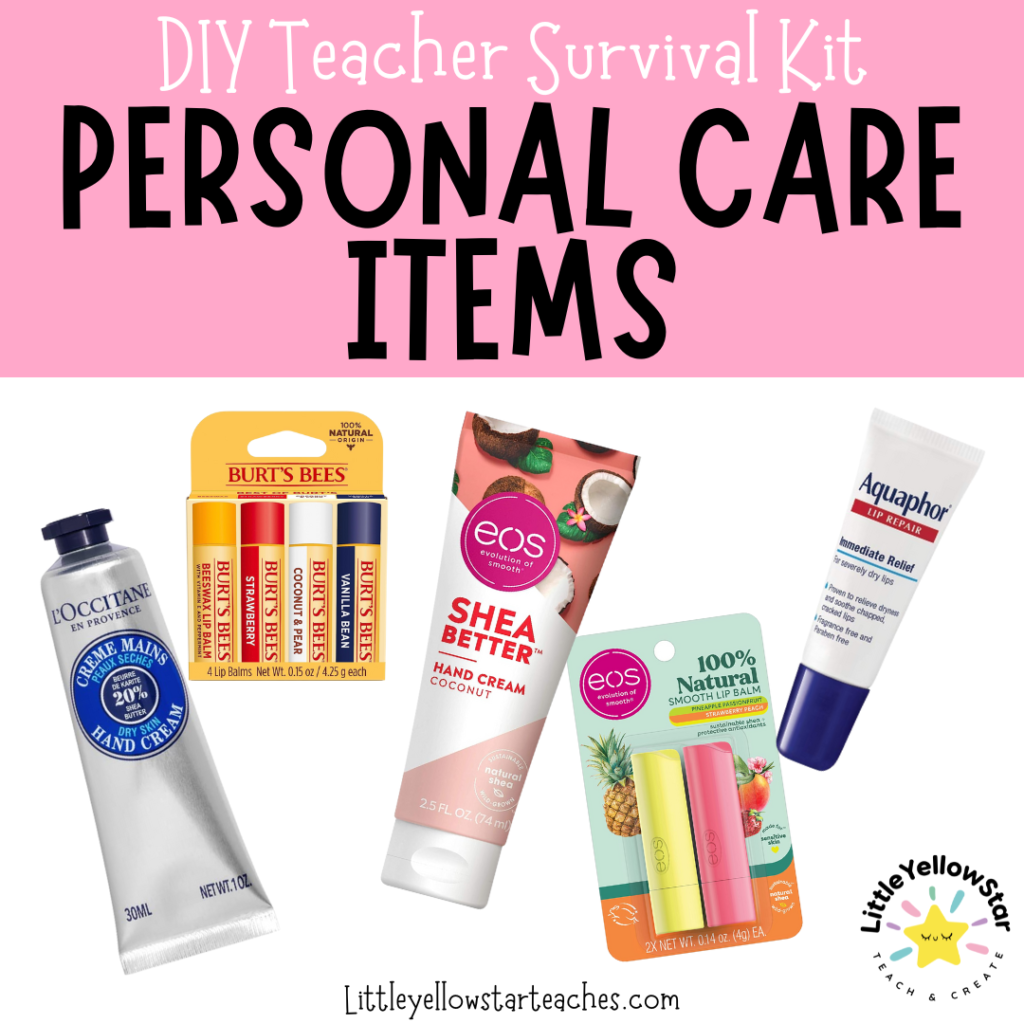 Teaching is a labor of love, but it can leave little time for self-care. Remind your teacher to take care of themselves with a lip balm – because talking all day can really dry out your lips – or a nice hand lotion, perfect for soothing hands after a day of grading papers. Hand sanitizer is another must-have, especially the scented ones that make you feel like you're in a tropical paradise instead of Room 203.
Item Examples:
#3 Stress Relief Items😌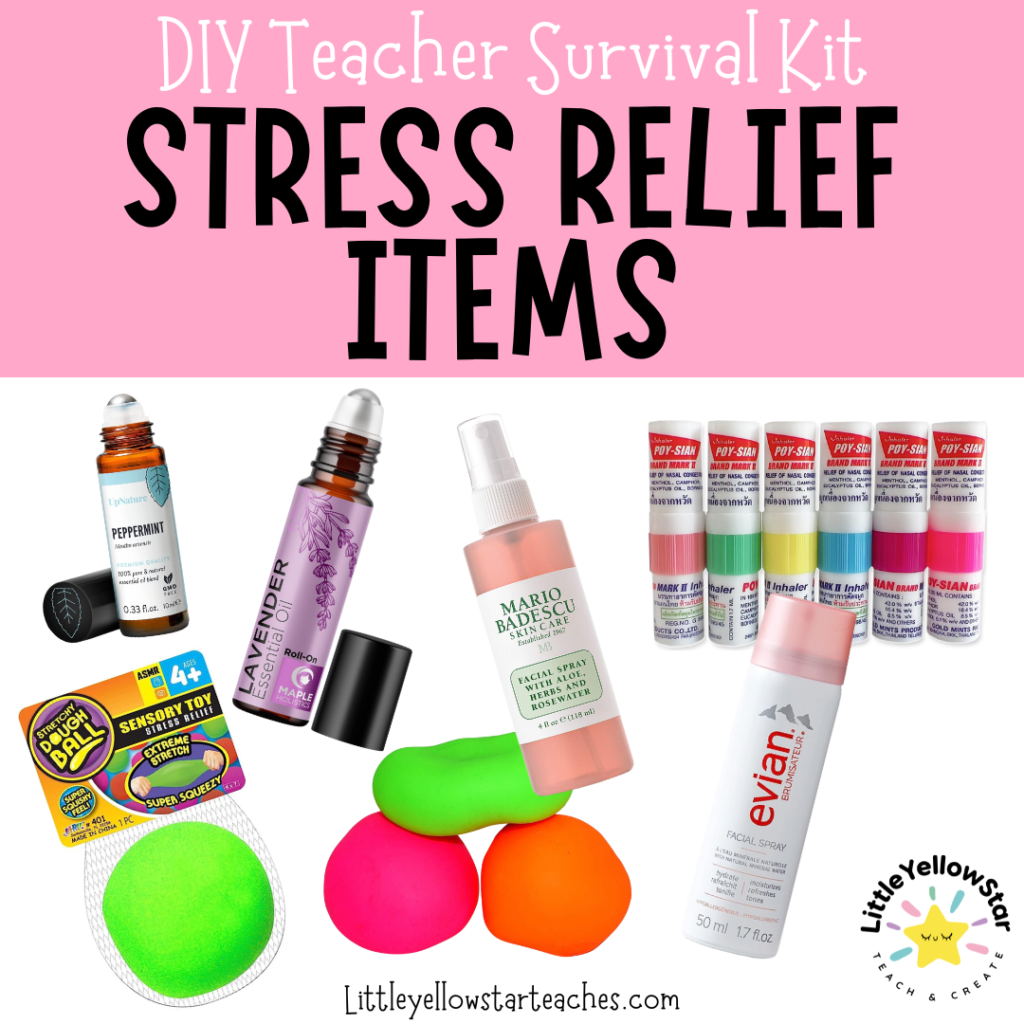 Being a teacher means having the patience of a saint. But even saints need a little help! Stress relief items like a squishy stress ball or a scented nasal inhaler can be a game-changer on a challenging day. Essential oil rollers are compact and easy to use, and scents like lavender or peppermint are known for their calming properties. And how about a refreshing facial mist for those hot, stuffy afternoons? Remember, though, no candles – we don't want to set off the school fire alarm!
Item Examples:
#4 Snack Pack🍫
As the saying goes, an army marches on its stomach, and so does a teacher. They often get just 20-30 minutes for lunch, and not always at lunchtime. Stock their survival kit with a variety of snacks like granola bars, mixed nuts, and dark chocolate. With the nuts, just make sure you check with your teacher friend over their school nut policies first. Throw in some herbal tea bags for the winter months and a few coffee sachets for those mornings when they really need a kick-start.
Item Examples:
#5 Motivational Tools💡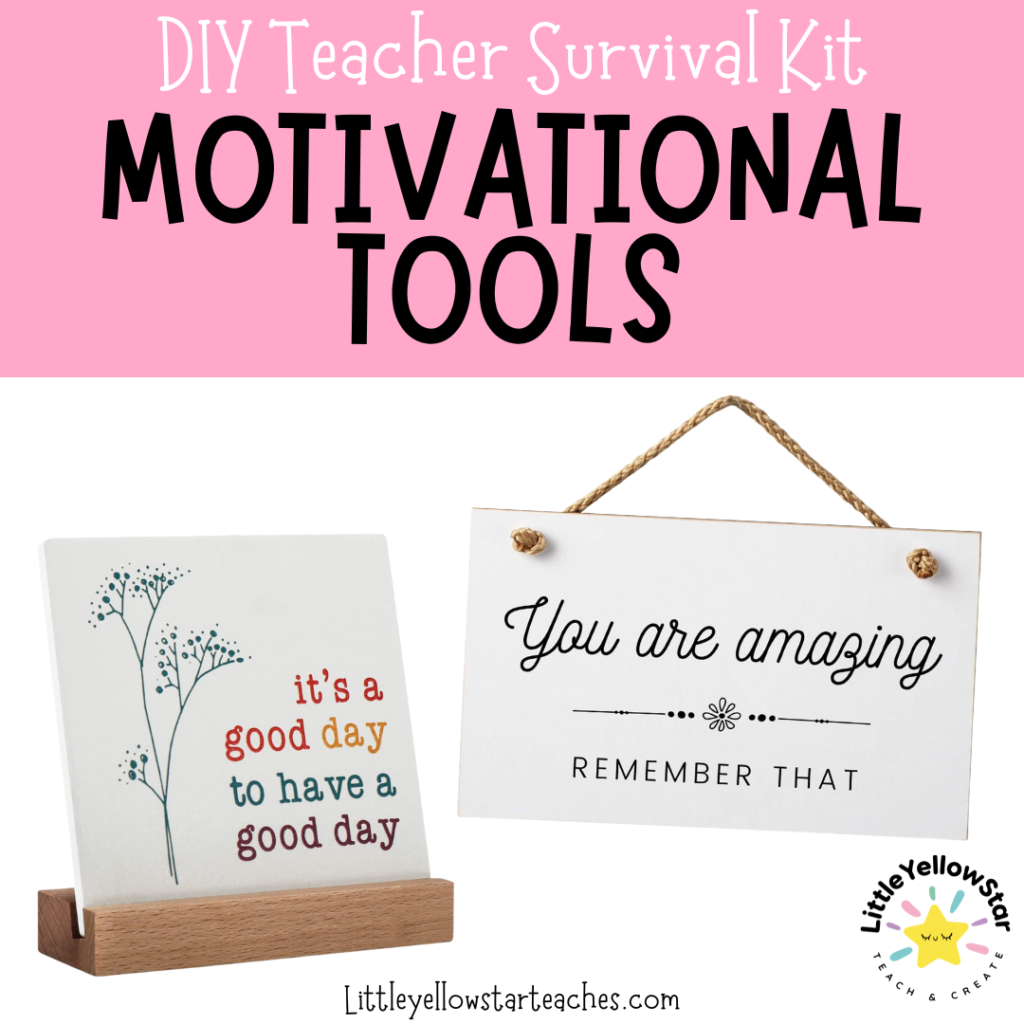 Teaching is an emotional rollercoaster, and sometimes a few words of encouragement can make all the difference. Include a jar of uplifting quotes or jokes that they can pull out whenever they need a little boost. It could be the pep talk they need on a tough day.
Item Examples:
#6 Personal Touch💌
This is your chance to really make the gift special. A handwritten note of encouragement can be a ray of sunshine on a cloudy day. If you know the teacher well, you could include something specific to their interests. Maybe a small gift card to their favorite coffee shop, or a keychain representing their favorite book character
#7 Classroom Supplies (Optional)
While it's true that teachers can always use more classroom supplies, these are usually the items they receive most often. If you do want to include some, go for fun and unique items that will make them smile. Novelty pens or cute sticky notes are always a hit. However, keep in mind that your funds might be better spent on the other items listed above that they'll appreciate but rarely receive.
Item Examples:
My Selection For A Teacher Survival Kit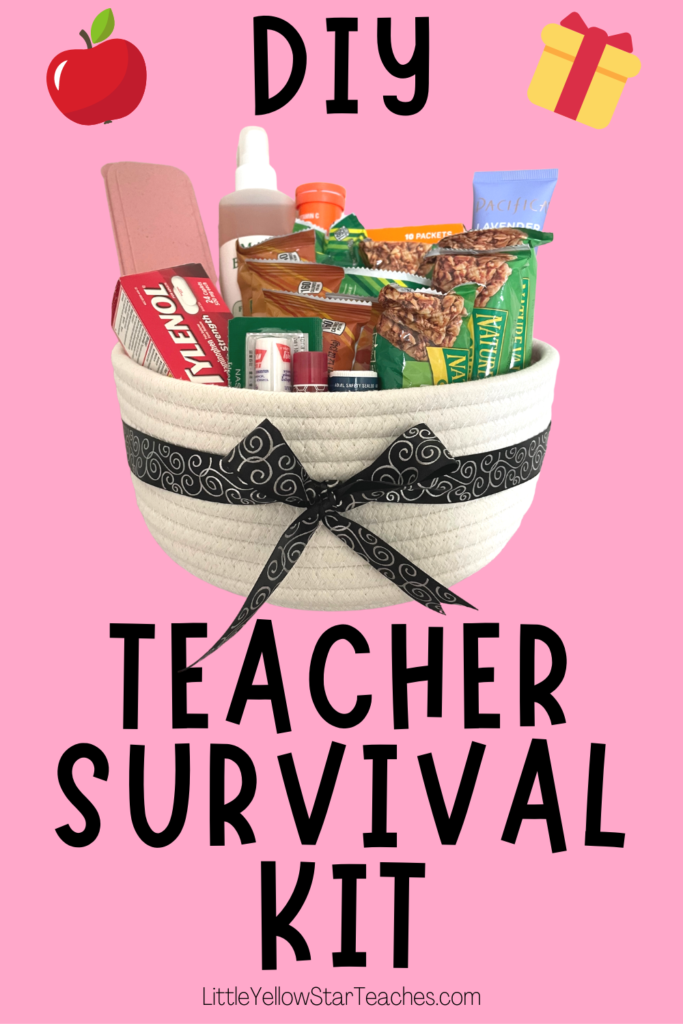 I've been talking at length about what to include in your teacher survival kit. Now, it's time to share my personal selection, the items that have served me well over the years, and some that I intend to gift to my daughter's future teacher. I've carefully curated this kit with teachers that I've known in the past and myself in mind. I probably would have been so happy if someone had made this survival kit for me during back to school.
Feel free to use this as your own survival kit blueprint.
My Selected Items:
Assembling The DIY Teacher Survival Kit🎁
Once you have gathered all the essential components for your kit, it is time to assemble.
Start with a sturdy yet stylish container – a tote bag, a plastic organizer with compartments, or a woven basket. The goal here is to create something that's easy to carry and will fit conveniently in a classroom environment.
Arrange the items in a way that makes each surprise a joy to discover. Add some tissue paper and a bow. It's the final touch to show them that this is not just a gift, but a care package loaded with love and well-wishes. Putting together this survival kit shows your understanding and appreciation for the trials and tribulations teachers face.
How Are You Creating Your DIY Teacher Survival Kit This Year?
Creating a DIY Teacher Survival Kit is a thoughtful and practical way to show your support for a teacher heading back to school. Not only does it provide them with useful items to tackle the school year, but it also sends a message of understanding and empathy, demonstrating that you truly appreciate the challenges they face daily.
In the end, the most important part of creating this survival kit is the intention behind it – to offer a token of appreciation for the critical work teachers do. This survival kit is more than a collection of items. It's a tangible representation of your respect and admiration for the teacher's dedication to nurturing young minds.
Remember, the specifics of the kit can be adapted to suit any teacher's needs or preferences. What matters most is that you've taken the time to consider what would make their school year a little bit easier and a lot brighter. Happy assembling! 🥳
Bye for now,
Prima from LittleYellowStar
* * *
Other Blog Posts That You Might Enjoy: