Welcome to all you lovely people who've set their hearts on DIY-ing a gift for the unsung heroes of our lives: teachers!
If you've got a teacher friend or a first-year teacher on your gift list this back-to-school season, then you're in the right place. A DIY teacher survival kit is not just a gift, it's a thoughtful, enjoyable, and practical lifeline they'll absolutely treasure.
Practical! Let's underscore 'practical' here for a moment. We all want our gift to matter, and with a DIY Teacher Survival Kit, it definitely will! Whether the recipient is navigating their first steps in teaching or is a veteran in the field, this custom-made kit will undoubtedly make a world of difference.
In this post, we'll explore 5 creative DIY teacher survival kit ideas. However, if you wish to delve deeper into the thought process behind the item selection in the teacher survival kit, do check out my more detailed post on Teacher Survival Kit Essentials.
Without further ado, let's get crafting! Here are several theme-inspired survival kits to jump-start your creative process.
5 DIY Teacher Survival Kit Ideas
#1 Wellness Warrior🏹: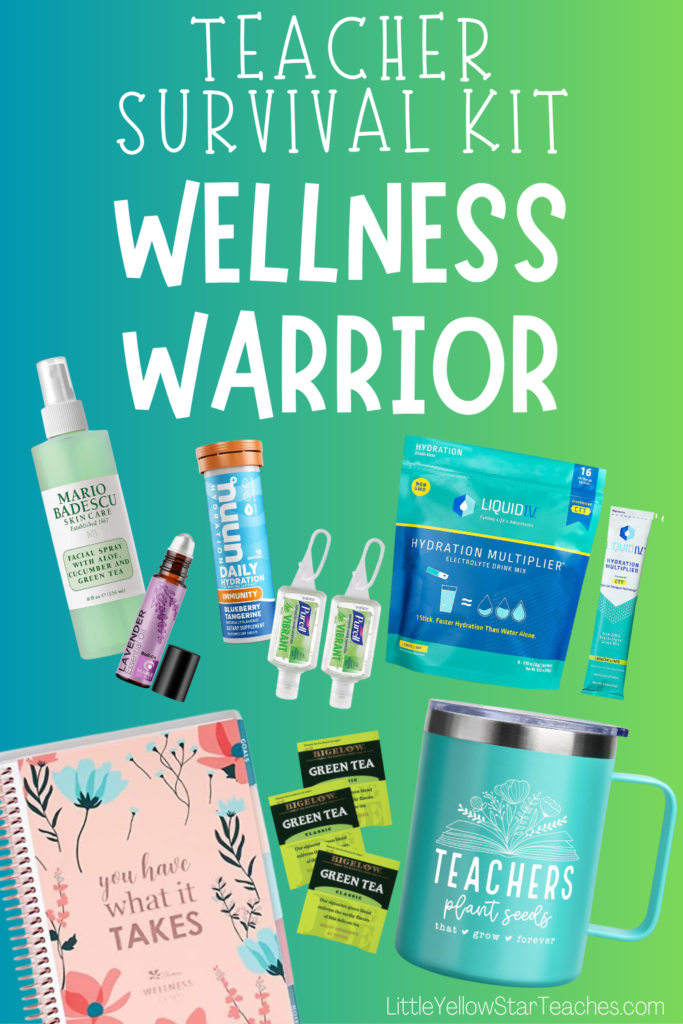 This theme focuses on health and wellness essentials for the teacher. Items could include immune boosters, essential oils for stress relief, facial sprays, hand sanitizers, and hydration supplements. This kit is all about keeping the teacher healthy and at their best during the school year.
Items:
Personalize Tips:
Custom label the hand sanitizer or facial spray with the teacher's name or a motivational quote.
Include a wellness diary or journal for the teacher to track their health and self-care routines: Erin Condren Wellness Planner
Customizable Tips:
If you know the teacher's favorite scents, pick out essential oils or facial sprays in those fragrances.
Choose a hand sanitizer scent you know they will love.
You can even choose vitamin C packets and hydration supplements in their favorite flavors.
The mug can be customized with their name, a special quote, or an inside joke.
#2 Fuel for the Day🔥:
This theme revolves around snacks and beverages to keep the teacher energized. It could include granola bars, instant coffee sachets, herbal teas, dried fruit and nuts, and perhaps even a stylish, insulated thermos or water bottle. The aim is to keep the teacher fuelled and ready to face the day!
Items:
Personalize Tips:
Include the teacher's favorite snacks or type of tea: Knowing their preferences can make this gift feel more personalized and appreciated.
Take note of any dietary restrictions: This thoughtful consideration can prevent uncomfortable situations and show you truly care about the teacher's wellbeing.
Add a monogram or a name to the thermos or water bottle: Personalized items are always special. A named thermos or water bottle could also prevent any mix-ups in the staff room!
Customizable Tips:
Create your own granola mix: This could be a fun activity and adds a personal touch to the kit. Plus, homemade granola often tastes better than store-bought!
Package a selection of loose leaf teas in individual test tubes or small jars: This unique presentation can make the gift more special and visually appealing.
Make your own labels for each item, with fun phrases like "Rocket Fuel" for the coffee or "Energizer Bites" for the granola bars: This can add a playful and personalized touch, and it's a fun way to make the kit even more unique and entertaining.
#3 Classroom Chic🎨: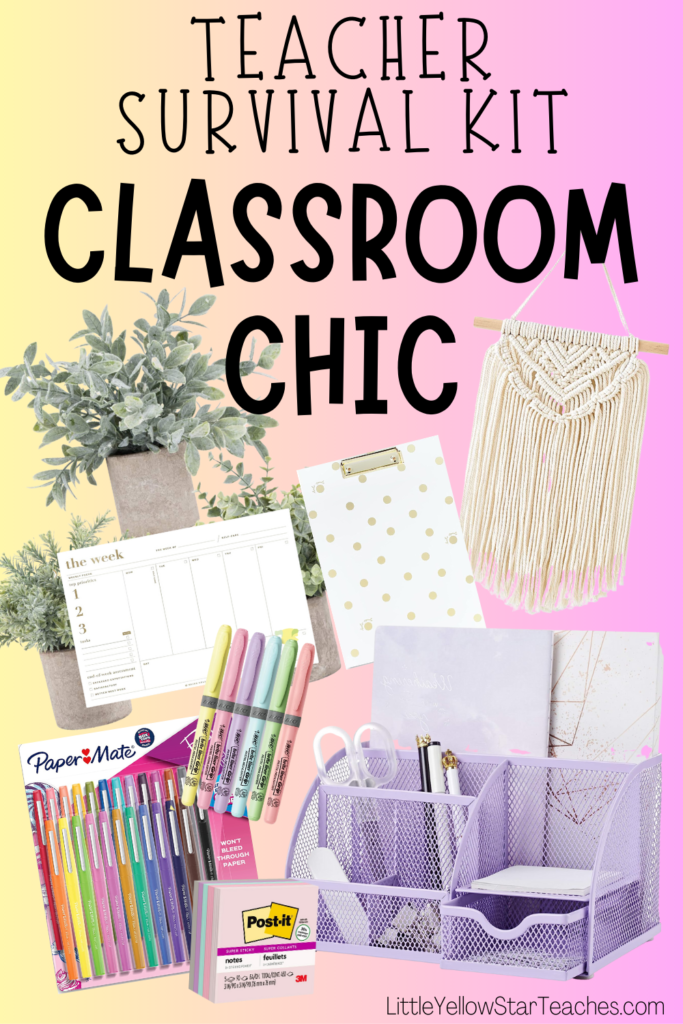 This theme involves stylish and useful classroom supplies. Think along the lines of cute sticky notes, novelty pens, fancy highlighters, themed desk organizers, and unique classroom décor. This kit adds a touch of personality to the teacher's workspace. Colors like soft pink, mint green, lavender, and baby blue can add a soothing and calming touch to the workspace. For a more sophisticated look, consider using neutral colors like black, white, and varying shades of grey or brown.
Items:
Sticky Notes – Cute sticky notes in different shapes and colors can help a teacher keep track of important tasks: Pastel Color – Post-It Sticky
Novelty Pens – Pens that have unique designs or colors can make grading papers more fun: Paper Mate Flair Felt Tip Pens
Fancy Highlighters – Highlighters in a range of colors and styles can add some variety to note-taking and lesson planning: BIC Brite Liner Grip Pocket Highlighters – Pastel
Themed Desk Organizers – A stylish desk organizer that aligns with the theme can help keep the teacher's workspace tidy

Mesh Desk Organizer – You can use this as the container to pack everything for your teacher survival kit. Wrap it up in a bow and voila!

Unique Classroom Décor – Add some personality to the workspace with décor items like wall art, fairy lights, or small potted plants.
Personalize Tips:
Favorite Colors and Styles: Incorporate the teacher's favorite colors or design styles into your selection of classroom supplies. This adds a personalized touch that shows you took the time to consider their tastes.
Include Items with their Initials or Name: Items such as notepads, pens, or desk organizers can often be personalized with the teacher's initials or name. This adds a unique touch to the items, and they're less likely to get misplaced!
Themed Décor: If you know of a particular theme the teacher loves, such as animals, space, or literature, you could select classroom décor items that align with that theme.
Customizable Tips:
DIY Desk Organizer: A DIY desk organizer can add a unique, homemade touch to the kit. You can paint or decorate it according to the teacher's taste.
Handmade Sticky Notes or Bookmarks: A small craft project can add a special touch to the kit. For example, you could make custom sticky notes or bookmarks using craft paper and stickers.
Create your own labels or messages: Adding motivational or appreciative messages to the items, such as "You're doing amazing!" or "Best Teacher Ever!" can add a positive and personal element to the kit. These messages could be added to notepads, pens, or even décor items.
#4 Zen Zone🧘‍♀️: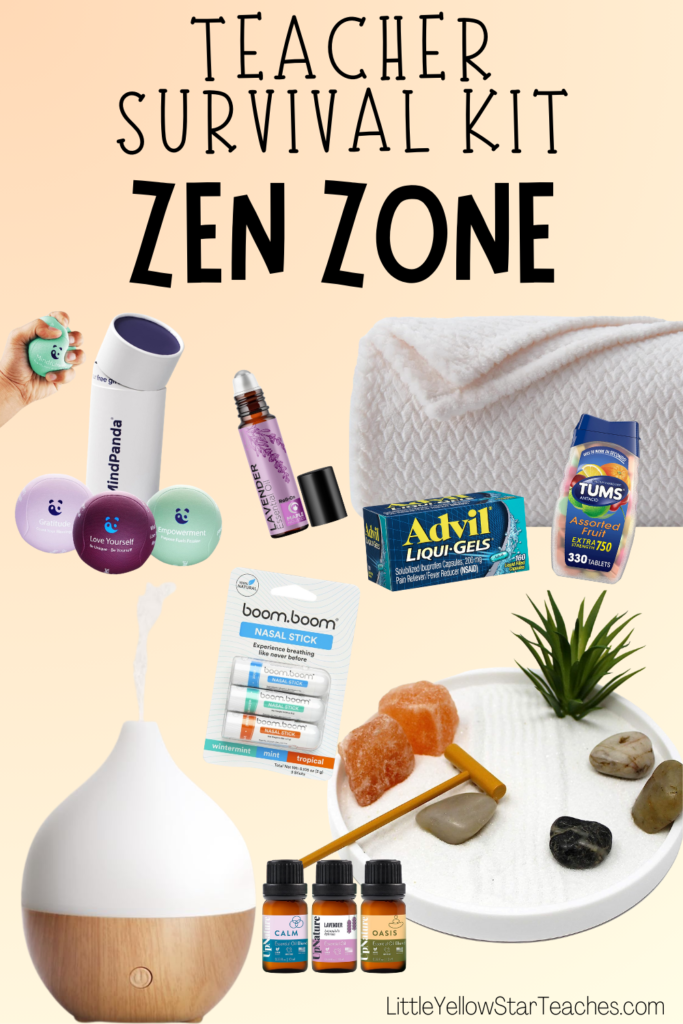 This theme focuses on stress relief and relaxation. Items might include stress balls, aromatherapy nasal sticks, essential oil rollers, relaxing music CDs or a Spotify playlist, a mini zen garden for their desk, or even a cozy desk blanket. The idea is to help create a calming atmosphere for the teacher during the school day. Colors like forest green, rich brown, sand, and soft white can bring about a feeling of calm and connection to nature.
Items:
Personalize Tips:
Choose items based on the teacher's personal preferences for scents or types of music.
Consider the teacher's classroom environment when selecting colors and styles for the items.
Customizable Tips:
Consider packaging the items in a relaxing, zen-themed basket or box to enhance the overall theme.
#5 Motivation Mountain🗻: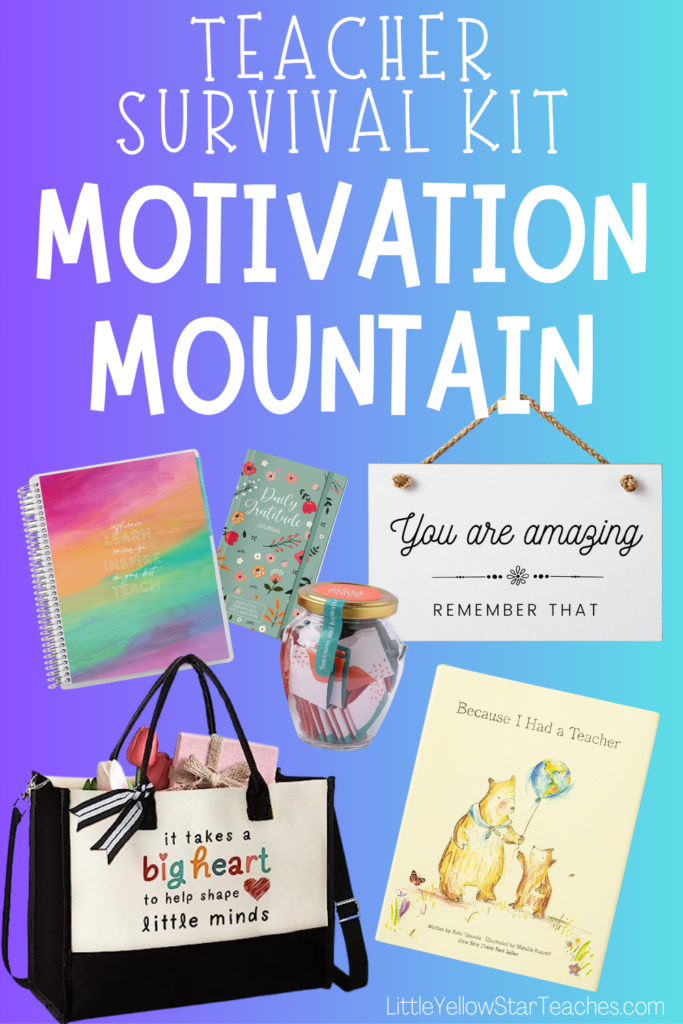 This kit is designed to provide emotional support and motivation. You could include motivational quotes, a jar of positive affirmations, small inspirational books, or a cute gratitude journal. The goal is to provide the teacher with a boost of positivity and encouragement whenever they need it.
Items:
Personalize Tips:
Select quotes or books that you think will resonate most with the teacher based on their personal interests or challenges they may be facing.
Choose a gratitude journal in the teacher's favorite color or with a design that suits their personal style.
Customizable Tips:
Consider creating a custom jar of positive affirmations by writing each one on a piece of paper in a color that matches the theme.
For a more personalized touch, write a motivational letter or note letting the teacher know how much they are appreciated and believed in. This can provide a lasting impact and make the survival kit even more meaningful.
* * *
Dos and Don'ts For Teacher Survival Kit
Do's
Consider the teacher's preferences and needs.
Always think about practicality. The items should be useful in a classroom setting.
Make sure to choose a sturdy container that can withstand everyday wear and tear.
Don'ts
Don't include perishable items unless you're sure they'll be used soon.
Avoid overly personal items. The gift should be professional and appropriate for a work setting.
Don't go overboard with the size. The kit should be compact and easy for the teacher to carry or keep in their workspace.
Other Personalization Tips
When it comes to creating the perfect teacher survival kit, the items you choose to include are certainly important. But what truly makes a gift special, what transforms it from being just 'another thing' to something that warms their heart and brings a genuine smile to their face, is the element of personalization.
In addition to the personalization tips for each themed Teacher Survival Kit, here are some general personalization tips. If you want to make sure your gift is special also cosider these ideas:
Handwritten Note: Add a heartfelt note appreciating their hard work and wishing them the best for the school year.
Custom Labels: Create custom labels for each item in the kit. This adds a fun element and makes it more personalized.
School Colors: Incorporate school colors or mascots in your kit. This could be through ribbons, labels, or even the color of the items you choose.
Theme it to the Subject: If the teacher specializes in a particular subject, this can also provide inspiration for personalization. For example, a math teacher might appreciate a novel set of mathematical symbol sticky notes, or a science teacher might love a coffee mug with a periodic table design.
Personal Favorites: If you know the teacher well, include items that you know they would love. A particular brand of tea, their favorite snack, or a book by their favorite author would add a special touch.
Photographs or Artwork: If you are artistically inclined, you could include a drawing or painting in the kit. Alternatively, a lovely photo of the class or a memorable school event could also be a touching addition.
How Are You Creating Your Teacher Survival Kit?
To wrap things up, crafting a DIY teacher survival kit is a thoughtful and meaningful way to show your appreciation for the hard work that educators do every day. The five theme ideas we've explored today offer a creative and customized approach to building a survival kit, but remember that the best gifts are always those that reflect the unique personality and preferences of the receiver.
By considering the teacher's daily needs, personal tastes, and classroom environment, you can compile a truly special and useful gift. Personalize and customize your kit with their favorites, and don't forget to leave a heartfelt note expressing your gratitude for their dedication and hard work.
As we bid goodbye to summer and welcome the back-to-school season, let's show our teachers that we value their tremendous efforts in shaping our futures. A teacher survival kit is a fun, practical, and loving way to do just that.
So, go ahead, let your creativity soar, and create the perfect teacher survival kit! Make the return to school a bit more pleasant, organized, and stress-free for the remarkable teachers in your life. Remember, it's the thought and care put into the gift that will truly touch their hearts. Happy crafting!
Bye for now,
Prima from LittleYellowStar
* * *
Other Blog Posts That You Might Enjoy: