***Disclosure: This post contains an Amazon affiliate link that at no additional cost to you, I may earn a small commission when you purchase through the link from my blog. Thank you for your support!
As the leaves begin to change colors and the air turns crisp, there's a special feeling in the air – it's the magic of autumn! Fall is a time of celebration and transformation, where the natural world puts on a spectacular display, and families gather to create lasting memories amidst this colorful backdrop.
To make the most of this wonderful season, I've gathered a collection of 11 delightful fall quotes perfect for kids. These quotes capture the essence of autumn and are sure to bring warmth to your heart during this special time of year. Also, check out sections on how to use these Fall quotes for kids this season!
Table of Contents
Why We Should Celebrate Fall
Celebrating fall with kids offers a unique opportunity to explore, learn, and create lasting memories. Here's why autumn is an ideal season for family bonding and fun:
Learning Through Nature:

Marvel at changing leaves and teach about nature's cycles.
Enjoy educational and fun nature walks and leaf collections.

Season of Harvest:

Engage in pumpkin picking and apple harvesting as fun, educational activities.
Cook and bake together using seasonal produce.

Creativity and Crafts:

Utilize leaves, pinecones, and acorns for craft projects.
Decorate the home with autumn themes to enhance creativity.

Celebrating Change and Growth:

Use autumn's changing scenery to introduce concepts of change and renewal.
Embrace autumn as a time of new beginnings, coinciding with the new school year.

Cozy Family Time:

Longer evenings for storytelling and reading together.
Enjoy warm, cozy activities like hot cocoa and baking.

Fun Outdoor Activities:

Ideal weather for family hikes, picnics, or camping.
Observe birds and animals, fostering curiosity about wildlife.

Festivals and Traditions:

Teach kids about cultural traditions through festivals like Halloween and Thanksgiving.
Participate in community events like fall fairs for community spirit.
Celebrating fall with kids enriches their understanding of nature, encourages creativity, and strengthens family bonds through shared experiences and cultural learning.
11 Fall Quotes for Kids
1. "Life starts all over again when it gets crisp in the fall." – F. Scott Fitzgerald
Life starts all over again.
Fitzgerald's words convey a sense of renewal and change that comes with the autumn season. For kids, this quote can be particularly meaningful as it aligns with the start of a new school year, offering opportunities for new friendships, learning, and growth. It teaches children that change, just like the seasons, is a natural and positive part of life.
Journal Prompt: Write about something new you want to try this fall.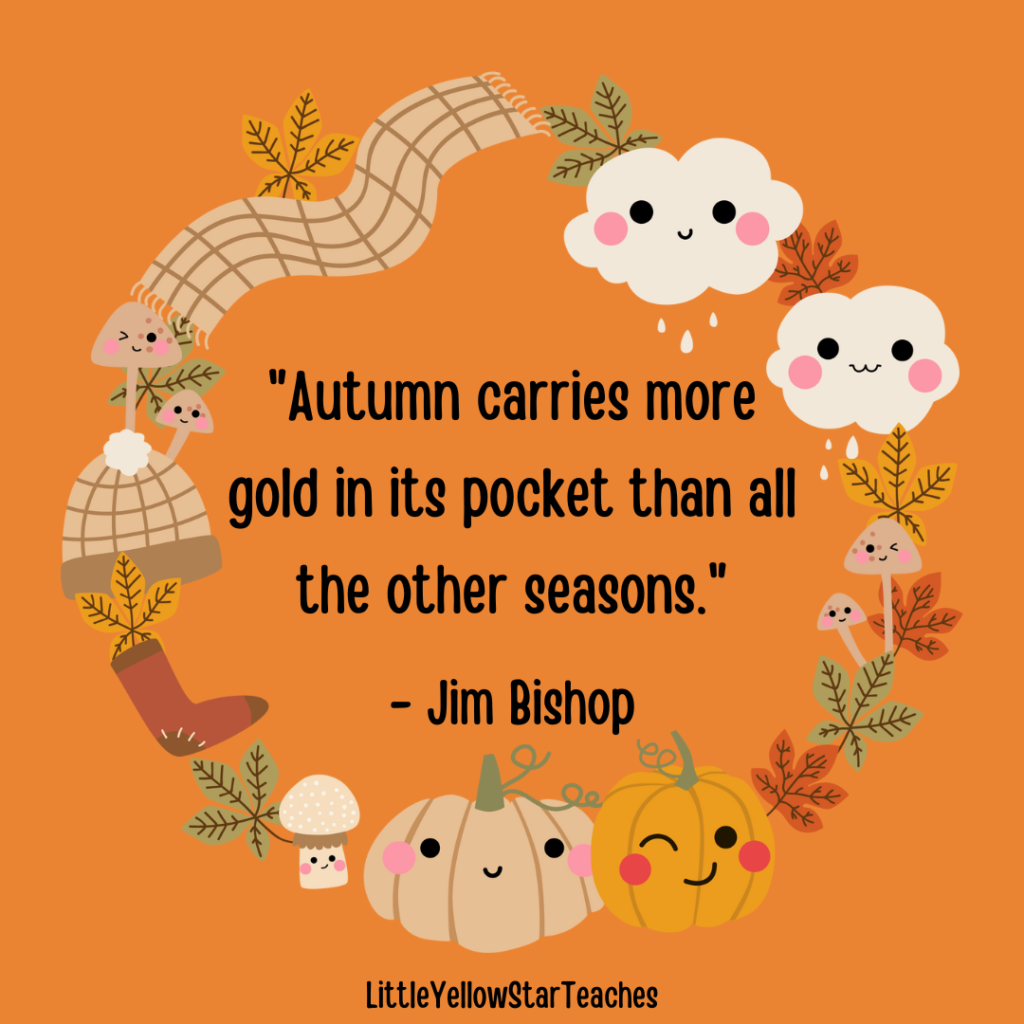 2. "And all at once, summer collapsed into fall." – Oscar Wilde
Summer to fall.
Wilde's words paint a vivid picture of the transition from the warmth of summer to the coolness of fall. It's a great way to teach kids about the seasons and how changes in the environment affect our lives. This quote also touches on adaptability and embracing change, important lessons for children as they grow.
Journal Prompt: Draw a picture of a tree in summer and then in fall. Describe the differences.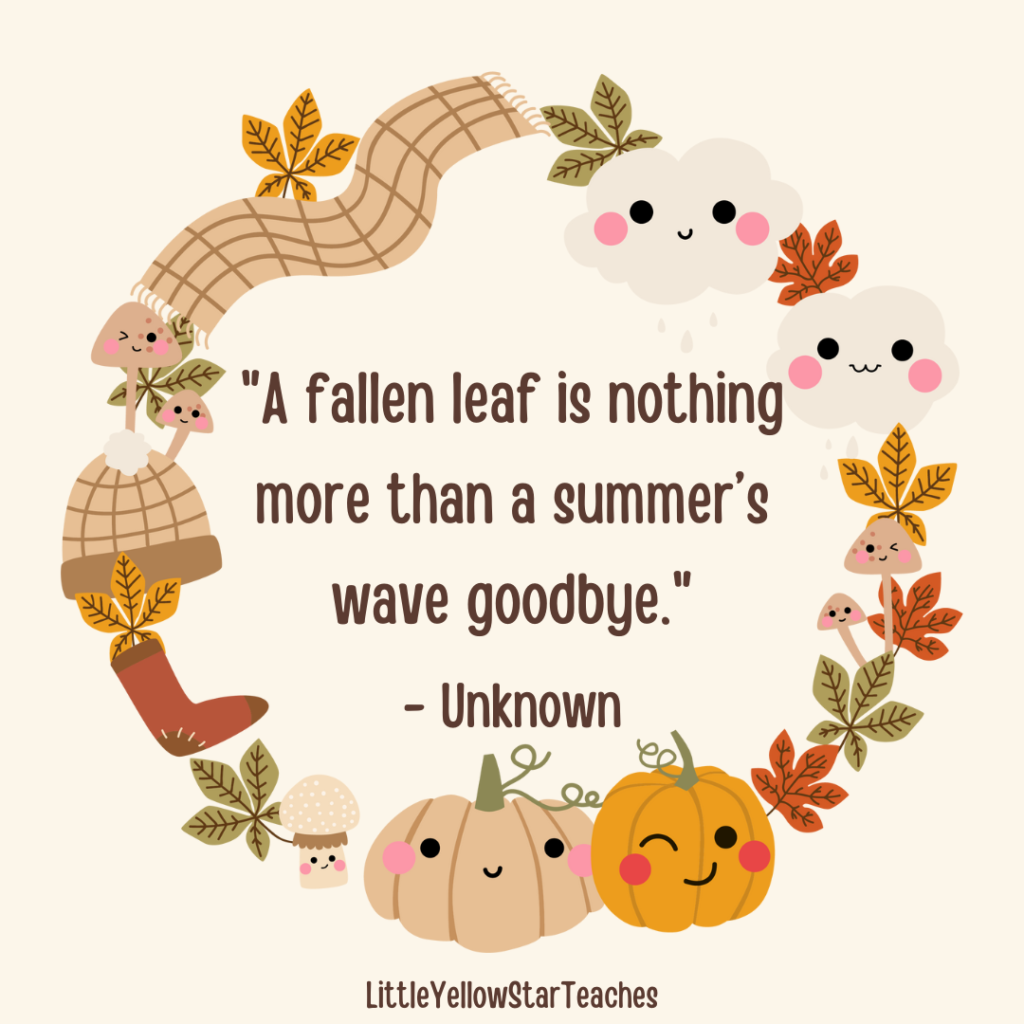 3. "It's the first day of autumn! A time of hot chocolaty mornings, and toasty marshmallow evenings, and, best of all, leaping into leaves!" – Winnie the Pooh
Joys and simple pleasures.
Winnie the Pooh's cheerful words highlight the excitement and fun activities associated with fall. It encourages kids to appreciate and enjoy the small, everyday moments. This quote is a wonderful way to teach children about finding happiness in nature and the changing seasons.
Journal Prompt: What autumn activity are you most excited about? Why?
4. "Autumn shows us how beautiful it is to let things go." – Unknown
Autumn is a great example.
The quote is a metaphor for letting go of things that we no longer need, much like trees shedding their leaves in autumn. This concept can help children understand and accept changes in their lives, such as moving to a new grade or saying goodbye to old toys. It teaches resilience and the beauty in growth and change.
Journal Prompt: Write about a time when a change or 'letting go' led to something good.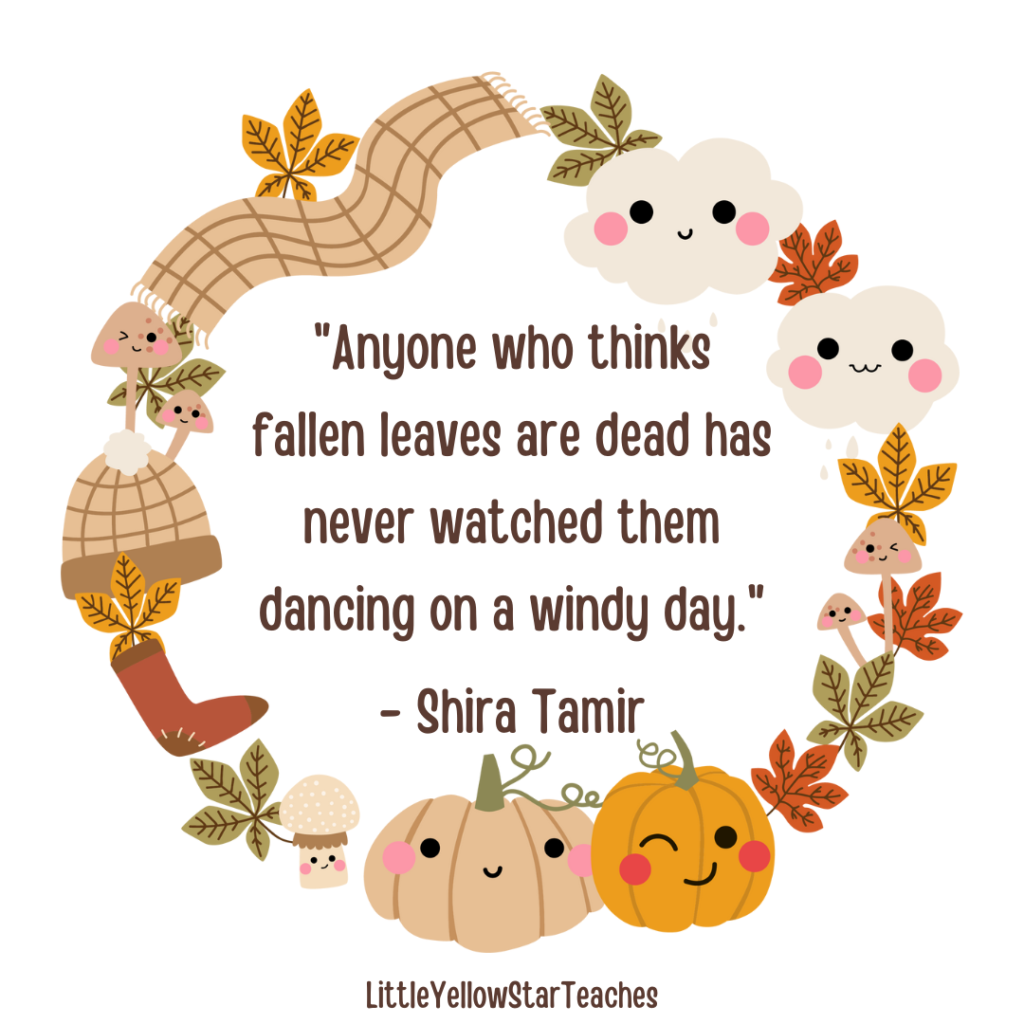 5. "Autumn… the year's last, loveliest smile." – William Cullen Bryant
Autumn is nature's last smile.
Bryant's words can teach children to appreciate the unique beauty of each season, especially the colorful grandeur of fall. It's a reminder to enjoy the present moment and find beauty in the world around us. This quote can encourage kids to observe and appreciate the natural changes that occur throughout the year.
Journal Prompt: Write about your favorite autumn memory.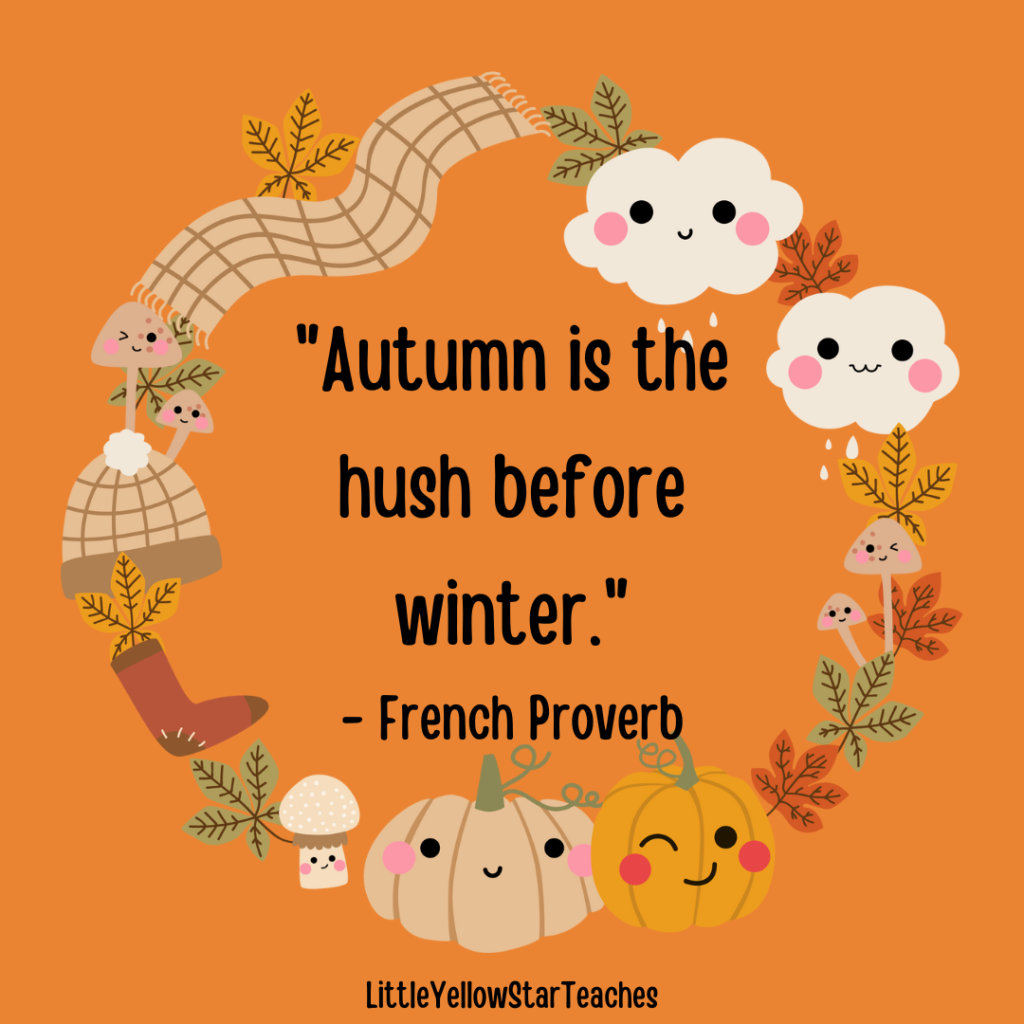 6. "Autumn carries more gold in its pocket than all the other seasons." – Jim Bishop
Autumn is gold.
Jim Bishop's words capture the unique charm of autumn with its vibrant leaves and golden landscapes. For children, this quote can inspire an appreciation for the natural beauty of the season and the richness it brings to our environment. It's a metaphor for finding value and beauty in the changes around us.
Journal Prompt: Imagine if you had pockets full of autumn gold. What would you do with it?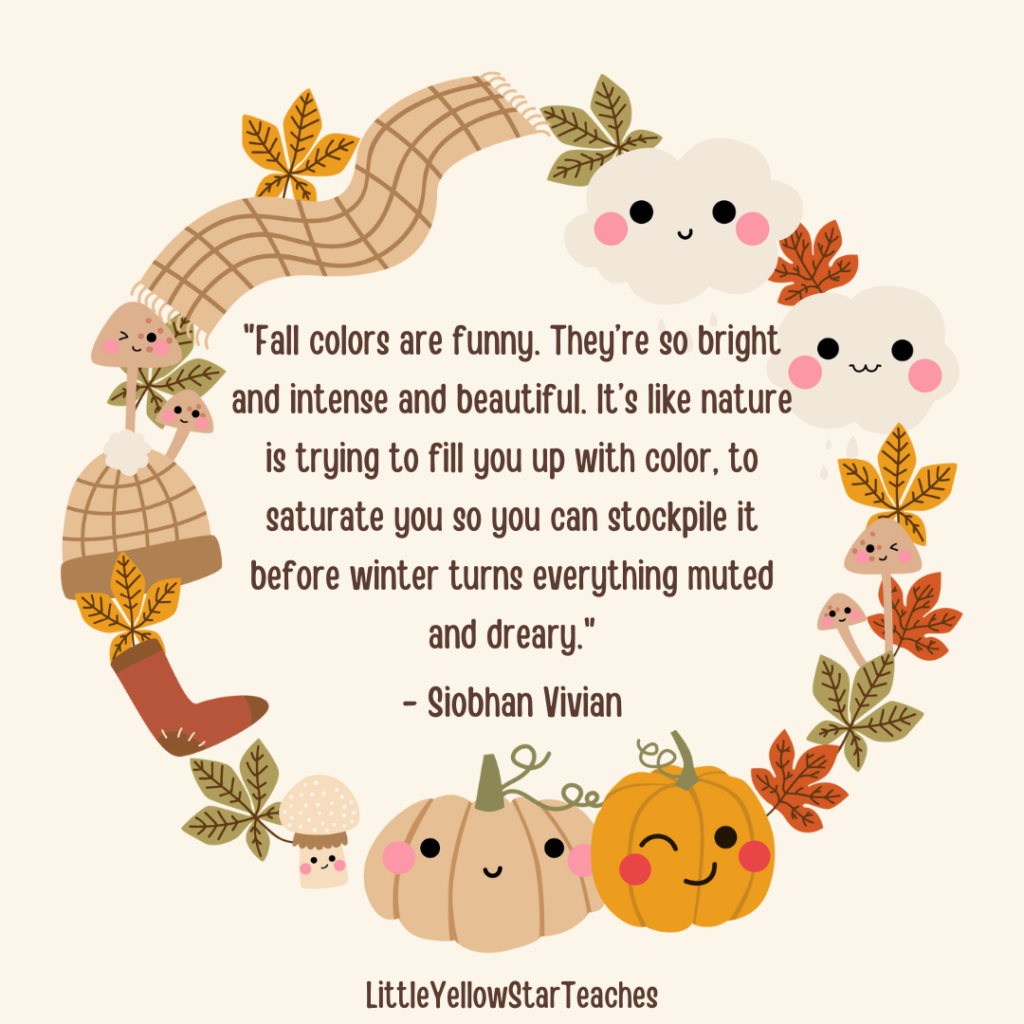 7. "A fallen leaf is nothing more than a summer's wave goodbye." – Unknown
A fall leaf is like saying farewell.
The imagery in this quote is a gentle reminder of the transition from summer to autumn. It can help children understand the cyclical nature of seasons and the beauty in these changes. It's also a poetic way to teach kids about saying goodbye to things and embracing new beginnings.
Journal Prompt: Write a goodbye letter to summer. What would you thank it for?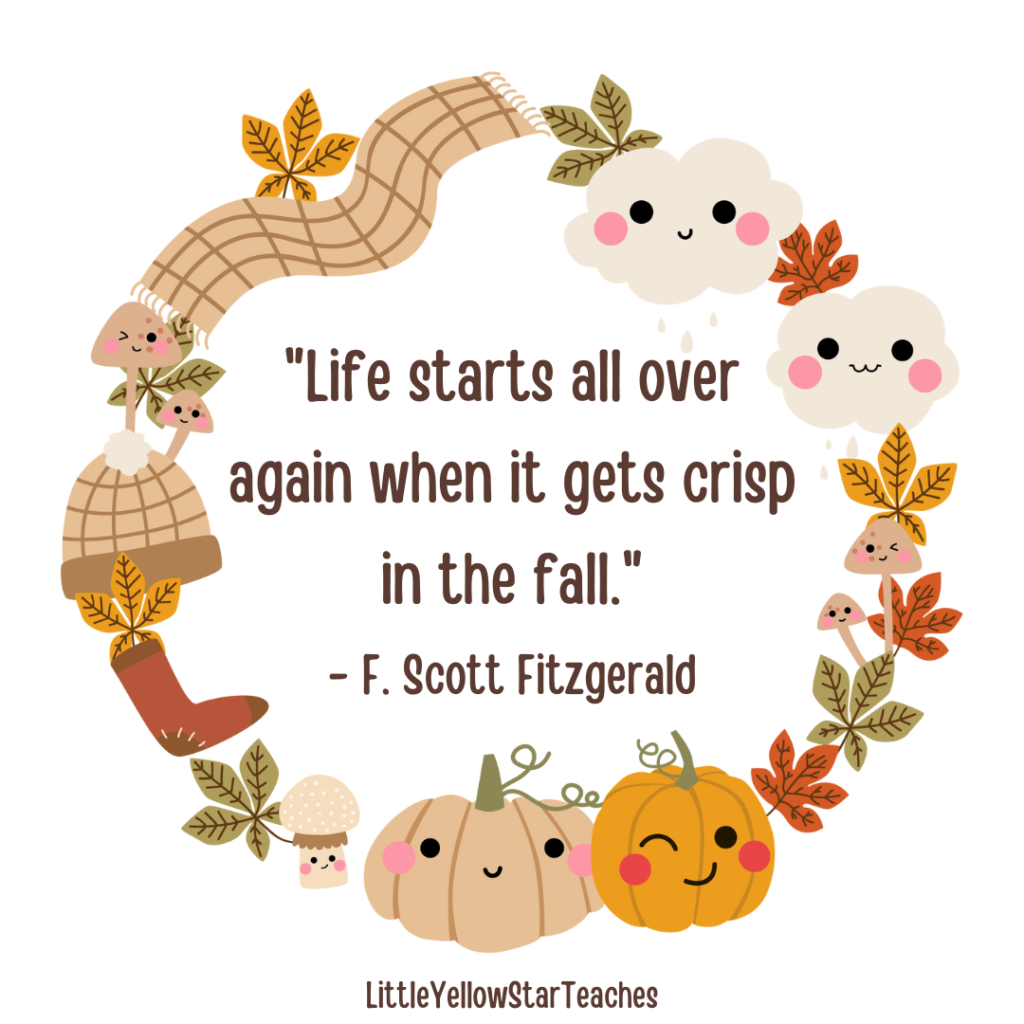 8. "Fall has always been my favorite season. The time when everything bursts with its last beauty, as if nature had been saving up all year for the grand finale." – Lauren DeStefano
Fall is nature's grand finale.
DeStefano's words beautifully describe the peak of natural beauty in autumn, suggesting a climax in the yearly cycle. This can inspire children to notice and value the spectacular changes in nature during fall, seeing it as a culmination of the year's growth and changes.
Journal Prompt: Imagine planning a grand finale for autumn. What events or celebrations would you include?
9. "Anyone who thinks fallen leaves are dead has never watched them dancing on a windy day." – Shira Tamir
Fallen leaves are full of life and movement.
Tamir's words encourage a perspective that finds life and beauty in what might seem lifeless, like fallen leaves. It's a great way for kids to learn about perspective and the beauty in natural cycles. This quote can inspire them to find joy and vitality in simple, everyday moments.
Journal Prompt: If you were a leaf dancing in the wind, where would you go? Describe your journey.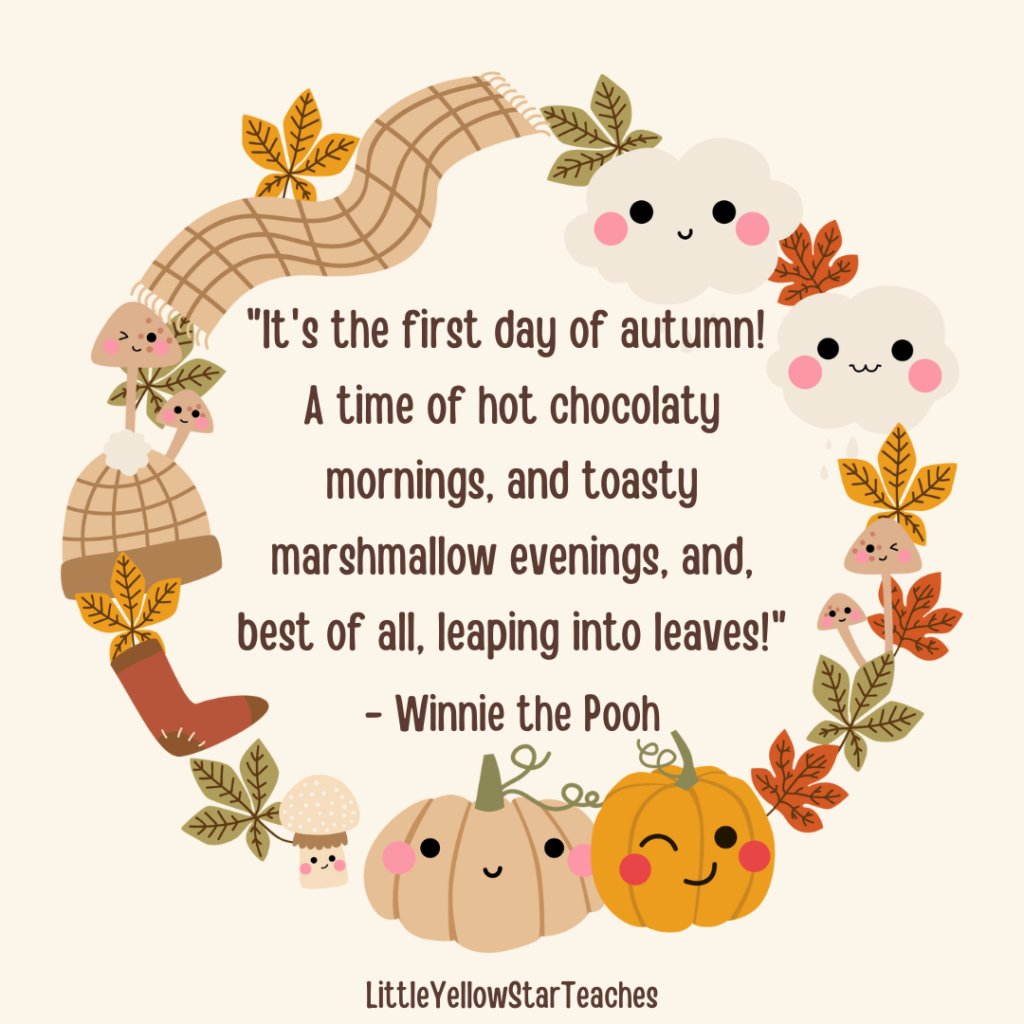 10. "Autumn is the hush before winter." – French Proverb
The hush before winter.
The quote metaphorically represents autumn as a calm and contemplative period, offering a lesson about enjoying peaceful moments before changes. For kids, it can be a gentle reminder to appreciate the quiet beauty of autumn and to prepare for the coming of winter both literally and metaphorically.
Journal Prompt: Imagine you are preparing for winter during autumn. What would you do?
11. "Fall colors are funny. They're so bright and intense and beautiful. It's like nature is trying to fill you up with color, to saturate you so you can stockpile it before winter turns everything muted and dreary." – Siobhan Vivian
Fall is contrast to winter.
Vivian's words highlight the striking beauty of autumn leaves, offering a perspective that these colors serve as a buffer against the dreariness of winter. It's a wonderful way to teach children about the contrasts in nature and the importance of appreciating and savoring beauty while it lasts.
Journal Prompt: Describe your favorite fall color and why it stands out to you.
Ways to Use These Quotes
Craft Projects: Use fall quotes as inspiration for craft projects. Kids can create posters, greeting cards, or bookmarks with their favorite fall quotes.
Daily Inspirations: Introduce a 'Quote of the Day' for each day in autumn, using fall-themed quotes to inspire discussions or journal entries.
Story Prompts: Use quotes as prompts for creative writing. Kids can write stories or poems inspired by these quotes.
Classroom Decor: Decorate the classroom or home learning space with fall quotes. Involve the kids in selecting and designing these decorations.
Learning Activities: Incorporate fall quotes into language learning activities, like identifying key words, discussing meanings, or practicing handwriting.
Additional Resources
Fall Books For Kids
Early Elementary Children (Ages 3-6)
Lower Elementary Children (Ages 7-9)
Upper Elementary Children (Ages 9-11)
Fall Activities For Kids
Leaf Collecting and Identification: Go on nature walks to collect different types of leaves and learn about their names and characteristics.
Pumpkin Carving and Decorating: Organize a pumpkin carving or painting session.
Autumn Scavenger Hunts: Create scavenger hunts for kids to find autumn-related items outdoors.
Baking Autumn Treats: Involve kids in baking seasonal treats like apple pies or pumpkin muffins.
Craft Making: Engage in fall-themed crafts, such as making leaf collages, pinecone animals, or autumn wreaths.
Fall Resources For Parents & Caregivers
What's Your Favorite Fall Quote?
As you embrace the beauty of autumn with your children, may these fall quotes inspire you to make the most of this magical season. Cherish the falling leaves, cozy moments, and the warmth of family. Let the spirit of fall fill your hearts and homes, creating memories that will last a lifetime.
Share your favorite fall quotes with us and let us know how you plan to use them to create memorable moments with your family. Share it by tagging me on Instagram @LittleYellowStarTeaches.
Wishing you a season filled with love, laughter, and cherished memories!
Bye for now,
Prima from LittleYellowStar
* * *
Other Blog Posts That You Might Enjoy: